ASRC is located in the JAEA campus in Tokai, a charming rural village in the prefecture of Ibaraki, approximately 100 km from Tokyo. The campus, which includes also J-PARC (Japan Proton Accelerator Research Center), is spread along the Pacific Ocean coast. Quite appropriately, the name Tokai [東海 in kanji], means "East Sea"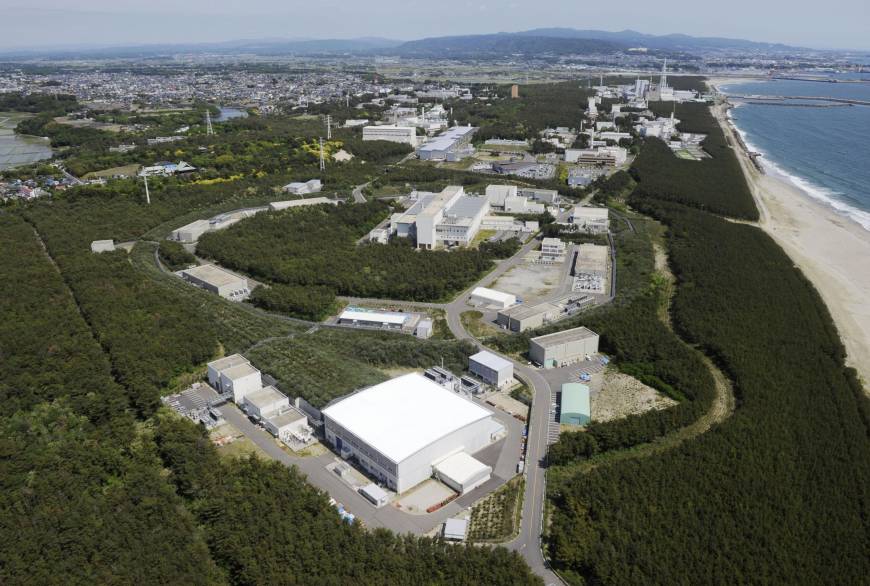 The history of Tokai village, or Tokai 東海 in Japanese, is linked to nuclear science since 1956, when the Japan Atomic Energy Research Institute (JAERI) was established here. In 1966 the first commercial power reactor was built in Tokai. In October 1st, 2005, JAERI and the Japan Nuclear Cycle Development Institute (JNC) merged to become the Japan Atomic Energy Agency (JAEA). Because of this history, the word 原子力 [genshiryoku], i.e. atomic power, is even included in the traditional song of Tokai, "Tokai ondo" which can be heard every year in August during the village feast.
To a foreigner coming to live in Japan, Tokai offers the possibility to experience traditional Japanese rural life, quite a marked contrast with the image of metropolis like Tokyo. Post-doctoral researchers and new members of staff can easily afford to live in a large apartment or even a house with garden. The JAEA living allowance, which is added to the monthly salary, reduces the real costs of rent. To give an approximate figure, living in Tokai in an 80-m2 apartment costs the equivalent of few hundred dollars per month.
Furthermore, compared to other similarly small-sized towns, due to the large number of foreign researchers, Tokai is well prepared to welcome and help people that do not speak Japanese. Several local organization provide support to newcomers wishing to integrate. For example, the Tokai International Center [http://www.tokai-international.org/] publishes a guide called "living in Tokai" [http://www.tokai-international.org/生活情報-living-guide/], in English, Chinese and Korean. This booklet lists a large amount of essential information about housing, medical services, Japanese classes, etc.
The JAEA International Affairs Office also organizes events, meetings and classes to favour the communication and the exchange between Japanese and foreign personnel. Ikebana classes, tea ceremonies, a bicycle ride to discover Tokai 12 most beautiful spots, English seminars given by foreign researchers and Japanese weekly language classes are only a few examples.
| | | |
| --- | --- | --- |
| | | |
| Inari Shrine at Tokai | | Sunrise seen from Tokai beach |
| | | |
| --- | --- | --- |
| | | |
| Tokai rice fields in spring | | Tokai rice field in autumn |
In Tokai, forests, parks and rice fields, Shinto Shrines and Buddhist temples, can be enjoyed almost throughout the whole year due to a very sunny weather, with the exception of the rainy season in June-early July. In additional to the typical Japanese 24-hour open convenience stores and restaurant chains like Genki Sushi, Sukiya or BandoTaro, in Tokai one can find a large number of small, family-run restaurants and drink bars which usually offer excellent food and the freshest fish.
| | | |
| --- | --- | --- |
| | | |
| Pilgrims at Muramatsu temple in Tokai | | Cherry Blossom at JAEA entrance |
When in need of diversion from rural life, the prefectural capital town of Mito [Population: about 250,000] is only a 15 min train ride from Tokai Station. The center of Tokyo can be reached in 90 minutes using a fast train. Mito houses one of the three most famous parks in Japan, Kairakuen, and other monuments revealing the importance and richness of this area, such as the Kobuntei in the Kairakuen Park or the Kodokan —the samurai school of Mito. At the Hitachi Sea Side park (in the town of Hitachinaka), 7.5 km south of the entrance of the JAEA campus, spectacular, almost uncanny views of blossoming flowers can be seen in the different seasons. The neighbouring town of Hitachi and the near town of Oarai have beaches mostly attended in July and early August by swimmers, and almost all the year by surfers. The Japanese alps are also close and famous destinations like mount Tsukuba or the Fukuroda falls are within easy reach.
| | | |
| --- | --- | --- |
| | | |
| Kairakuen park in Mito seen from the Kobuntei | | Kochia hill in Hitachinaka Seaside Park |